You are invited to register for:  Jim Henderson Presents The Resignation of Eve Cloud Conference!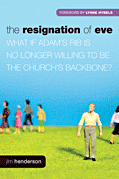 This will be a 75 minute call and is scheduled for Monday, February 27 at 5pm PST / 6pm MST / 7pm CST/8pm EST
This telephone-based event will feature Jim Henderson, author of The Resignation of Eve, David Kinnaman, President of The Barna Group, and women of The Resignation of Eve. David will discuss and take questions regarding the Barna Group's most up to date research regarding women in the church. Jim will do the same regarding The Resignation of Eve.  Jim will introduce a couple of the women he interviewed for the book. You will get the opportunity to discuss your thoughts and ideas on this topic with other callers from all over the United States as well as interact with David, Jim and  a few women from The Resignation of Eve.
NOTE:  As part of the invitation people are invited to arrive 5-10 minutes early as the call will start promptly at 8pm EST – you won't want to miss the Woman of RoE.
To register, click here.
Please join us for this crucial conversation!  And forward this link to everyone you think would find value in this gathering.