We wanted to share this note  from Chris Fabry (featured in his e-newsletter this week) about his new book Borders of the Heart. To subscribe visit – http://chrisfabry.com/about/newsletters
The Why in the Desert
Have you ever been forced to do something you didn't want to do?
I did NOT want to live in the desert. I had NO desire to live in Tucson, AZ. I do NOT like cactus or rattlesnakes. I do NOT like 110-degree heat. I do NOT like running the air conditioner all night. I could list a hundred reasons I do NOT like living in this dry, parched, arid, barren place.
Four years ago God moved us, kicking and screaming, to the desert. And there was a lot of screaming and kicking and wailing. We really didn't have a choice. Recovery was our goal. We'd taken a physical hit from a toxic exposure and all of the children had been affected. Both parents, too.
So we moved to Tucson. And in the back of my mind, I knew I would write about this area, about the people, about the heat, the mindset the desert gives. The issues of the border to the south and the issues in the heart of everyman.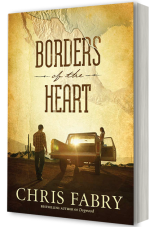 Today, Borders of the Heart officially releases. It's available at most bookstores. It's a romance, really, but not the way you think. It deals with illegal immigration, the drug trade, organic farming, devastating loss, death of border agents and police, and a plot to . . . well, I won't spoil it.
I don't think I'll be known as a Western writer. My heart is just south of the Mason-Dixon. But I've found a goodness in the people here and a desire to know God just like those who live in Dogwood. And now that fall is here, the rattlers are slithering toward their holes and tiny leaves on the ocotillo are tinging yellow, signaling change.
I did NOT want to live in the desert. But this is where I live, where I was divinely placed. And I like to think this story was at least a part of the reason. I hope you'll read it and more than that, I hope you'll have a story to tell about the place God has you now, even if you don't want to be there.
Because being fully where God has placed you is what Borders of the Heart is all about.