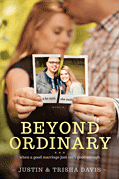 This week we're kicking off the blog tour for Justin and Trisha Davis' new book, Beyond Ordinary: When a Good Marriage Just Isn't Good Enough. Nearly 100 bloggers are participating in the tour from January 8-18, including many of our Tyndale Bloggers. You can read the TBN reviews of Beyond Ordinary by following the schedule here.
To celebrate the release of Beyond Ordinary, we want to give you a deeper look into the hearts of Justin and Trisha Davis. Here at Tyndale, our PR team is working on launching a podcast, Tyndale Insider, to give you an inside look at Tyndale's new releases, authors, and the publishing business. We were pleased to have Justin and Trisha as our first guests! You can listen to the interview here: (if the player isn't working, try this link).
[gplayer href="http://webminis.tyndale.com/podcasts/files/2013/01/BeyondOrdinary-Podcast.mp3″]Tyndale Insider – "Beyond Ordinary"[/gplayer]
Tonight at 8:00 p.m. Central Time, Justin and Trisha will be doing a Google Hangout with Tyndale bloggers. They'll share some of their story and answer your questions. The Hangout will be broadcast live via the Tyndale YouTube channel and we will embed the video here so you can join in live or watch it later if you can't make it tonight. If you have questions for Justin and Trisha, please leave them in the comments. We may be able to ask them during the Hangout.
In the meantime, learn more about Justin, Trisha, and Beyond Ordinary by watching the book trailer. The Davises are committed to helping marriages and use their own story of failure and restoration to encourage and minister to others. Visit their ministry at RefineUs.org.