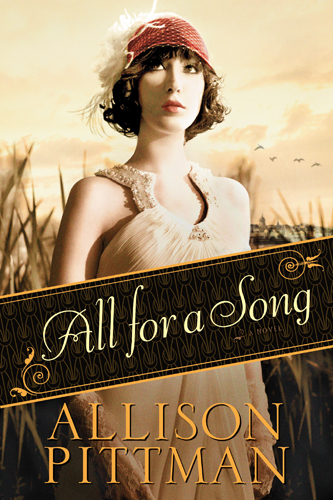 For a limited time, you can download Allison Pittman's All for a Song for $0.99. Click here for links to your preferred retailer and for a complete list of our current ebook deals. This offer ends on 03/26/13.
Dorothy Lynn Dunbar has everything she ever wanted: her family, her church, her community, and plans to marry the young pastor who took over her late father's pulpit. Time spent in the woods, lifting her heart and voice in worship accompanied by her brother's old guitar, makes her life complete . . . and yet she longs for something more.
Spending a few days in St. Louis with her sister's family, Dorothy Lynn discovers a whole new way of life—movies, music, dancing; daring fashions and fancy cars. And a dynamic charismatic evangelist . . . who just happens to be a woman. When Dorothy Lynn is offered a chance to join Aimee Semple McPherson's crusade team, she finds herself confronted with temptations she never dreamed of. Can Dorothy Lynn embrace all the Roaring Twenties has to offer without losing herself in the process?