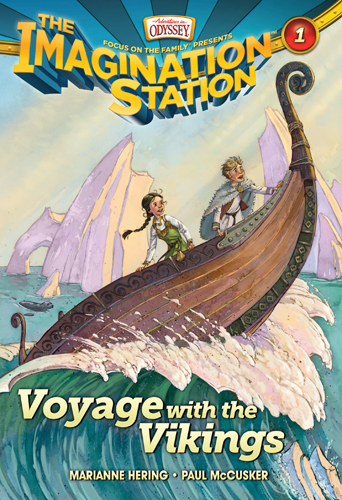 For a limited time, you can download Death Trap by Paul McCusker and Marianne Hering for just $1.99! This offer ends on 6/30/2014.
---
While visiting Mr. Whittaker at Whit's Soda Shoppe, Beth and Patrick find a mysterious letter in the Imagination Station requesting a Viking sunstone. The letter is old and says that someone named Albert will be imprisoned if the sunstone isn't found. Mr. Whittaker sends cousins Patrick and Beth to Greenland circa 1000. On their quest for the sunstone, the cousins meet Vikings Erik the Red and Leif Eriksson—and find the sunstone as they join Leif on his first voyage to North America. But the adventure is just beginning, for when they return to Mr. Whittaker's workshop with the sunstone, there is another note waiting for them, requesting a silver goblet.
Join Patrick and Beth as they continue their travel to various lands and time in the Imagination Station book series.
---
Click here to see all our current ebook deals!
---
E-Book Extra is now on Facebook! We're offering exclusive deals on Facebook that we won't talk about anywhere else. Like the page by 6/14 and enter to win an iPad Mini!