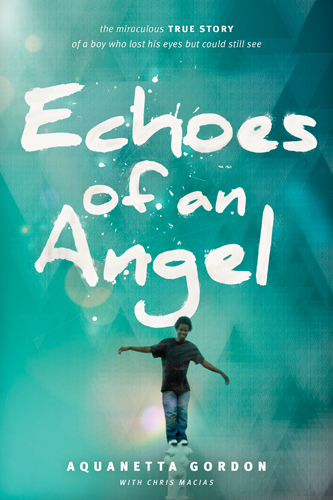 For a limited time, you can download Aquanetta Gordon's memoir of life with her remarkable son Ben, Echoes of an Angel, for free! This offer ends on 08/09/2014.
---
When Ben Underwood became blind at the age of two, anyone would have thought he faced a life full of hardship and uphill challenges—a world full of things he'd never be able to see and activities he'd never be able to enjoy. But as far as his mom, Aquanetta Gordon, was concerned, nothing was impossible for Ben . . . and so he accomplished the incredible. Known as "the boy who could see with sound," Ben mastered human echolocation—the ability to detect the size, shape and location of objects through the reflection of sound waves. By clicking his tongue and "seeing" the waves, Ben could ride his bike, shoot baskets, identify objects, and even play video games. Some called it a miracle, but to Ben and Aqua, the real miracles were the otherworldly experiences God gave Ben—physical and spiritual—that others couldn't explain. Echoes of an Angel is the remarkable true story of how a child who seemed destined for darkness brought light to the world. It's the story of a single mom who encouraged her son to push beyond his limits, even as her heart clenched with protective love and fear. And it's the story of a family's unshakable faith . . . in God and each other. – See more at: http://www.tyndale.com/Echoes-of-an-Angel/9781414386232#.U-OLfvldVrM
---
Click here to see all our current ebook deals!
---
E-Book Extra is now on Facebook! We're offering exclusive deals on Facebook that we won't talk about anywhere else.