With Election Day around the corner, Lance Ford, author of Revangelical, has a few ideas on a better way for Evangelicals to approach elections and the political process.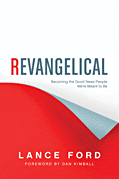 There's a better way for us to approach elections and the political process. Here are a few thoughts:
1. Commit to blessing. Refuse to curse. As the people who carry and speak the Good News of God's Kingdom, our mouths should be used to glorify God and to demonstrate that our first and ultimate trust is in him. Imagine how it would be if, during election seasons, the majority of Christians committed themselves to pray for God's conviction, wisdom, and truth to shine in and through our political candidates, while also refusing to speak vile and angry words about candidates with whom they disagreed.
First of all, then, I urge that supplications, prayers, intercessions, and thanksgivings be made for all people, for kings and all who are in high positions, that we may lead a peaceful and quiet life, godly and dignified in every way.
1 Timothy 2:1-2
2. Be thankful for democracy. The freedom to elect our representatives is a privilege that people throughout history have died for, and that many are currently fighting for throughout the world. As tiring and frustrating as an election season can be, the process is the freedom fruit of democracy. Let gratitude prevail over grumbling during the voting season.
3. Refuse to be partisan. No movement or political party has cornered the market on the ways and means of the Lord. To pull the straight party lever in the ballot box, without objectively researching and studying the issues and candidates, is both irresponsible and short-sighted. Make every nominee earn your vote on the merits of his or her record and your dutifully researched understanding of how you believe that person will represent your God-shaped beliefs.
4. Put your trust in the Lord. Keep in mind that Jesus is the King of kings and Lord of lords. History is in his hands. It is his story. God is not wringing his hands as the networks report on the election returns. Do your due diligence, and share your viewpoints with others. Get involved in a candidate's campaign, if you feel so inclined. But regardless of how the election turns out, hand over the results to the Lord and trust his ultimate governance.
5. Maintain generous discourse. Both in your real life conversations or in cyberlife chatter, commit to maintaining a kind and thoughtful demeanor in what you say or post. When the peace of God rules our hearts, it is evident in the way we talk and type. Maintaining an open and teachable heart and mind is the only way to learn and grow. Seeking to understand the viewpoints of others allows us to learn from and be heard by them as well.
6. Keep in mind your true citizenship. As Christ followers, our heavenly citizenship (Philippians 3:20) trumps our earthly loyalties at every turn—including our patriotism and politics. Recently, I've had to unfollow the posts of many evangelical friends on Facebook because of their compassionless, shameless, even hateful comments as they take a stance for or against certain political candidates or issues. No doubt some of these brothers and sisters in Christ have unfollowed me as well because of my challenges to their posts. It saddens me that the very same people who frequently post Scripture verses and quotes declaring their love and allegiance to Jesus can at the same time exhibit such partisan bitterness, sarcasm, and contempt for others.
Taken from Revangelical by Lance Ford copyright © 2014. Used by permission of Tyndale House Publishers, Inc. All rights reserved.
Do you agree with this list? What do you consider when heading to the polls?